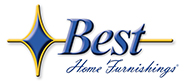 CHAIRLEADERS.
From classic wingback chairs to contemporary swivel barrel chairs, Best Home Furnishings chairs feature hardwood frame construction, high quality foams and premium cushioning fibers. And when it comes to choices, you can choose from thousands of fabrics and leather options; sleepers, chaise lounges – even dining room furniture sets, such as bar stools. Add motion with swivel and glider mechanisms made exclusively for Best Home Furnishings by industry leader Leggett & Platt®.
THE HISTORY OF BEST HOME FURNISHINGS
In 1962, two men turned their chair expertise into a yet unknown empire. In a small rented building the two covered all aspects of the business for quite some time. Over 55 years later, Best Chairs has surpassed all expectations becoming Best Home Furnishings, a name adopted to further describe the entire product line. Family owned and operated, our facilities cover over 1,100,000 square feet in five locations with nearly 1,000 employees and is growing to become one of the largest furniture manufacturers in the world.
The company's success story began with a very simple theme: make the best quality product at the most affordable price. While the Best Home Furnishings of today no longer resembles the Best Chairs of yesterday, one thing has remained constant: our commitment to quality and the total satisfaction of our customers. Best's product selection has grown to hundreds of different styles all available in over a thousand diverse cover selections made to order in days, not weeks. Learn about the five pillars of success that make Best Home Furnishings truly, one of the best. WE ARE BEST HOME FURNISHINGS.