Since its founding in 1883, Jamison Bedding has provided nothing but excellent commercial grade mattresses and beddings throughout the United States. And after 137 years in the business, they have become one of the largest and most respected manufacturers in the country. Since then, providing comfort for their clients has become their business.
Jamison Beddings truly believe that a good night of sleep is important in maintaining one's health and is the key to being energized and refreshed for the next day. In fact, most people spend one-third of their life in bed. That's why they offer nothing but plush, high-quality, and firm commercial grade mattresses for their clients.
Here at Factory Direct Furniture, we offer some of Jamison Beddings' most popular products, including their handcrafted innerspring mattresses. This commercial mattress responds to the movement of the body lying on top of it, providing plenty of support and comfort. It also helps relieve pressure points. These make an innerspring mattress the most ideal for people experiencing. It's also a great option if you're a back or stomach sleeper.
We have Jamison Beddings innerspring mattresses in twin, full, queen, and king size. You can also choose from 3 different pillow tops; soft, medium, or firm mattress.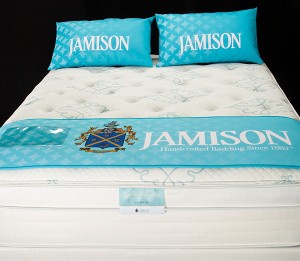 Turnberry Firm
Firmness: Luxury Firm
Comfort Layers:
– Thermo Cool Stretch Knit Cover
– Quilted to 5/8" Ultra Gel Foam and 5/8" Luxury Firm Foam
– Safe Slumber® Fire Retardant System
– 7/8" Luxury Firm Comfort Foam
– Extra Firm Comfort Pad
Mattress Unit: 3" Total Encasement using Duraspring InnerAct Support System
Twin Coils 420
Full Coils 588
Queen Coils 720
King Coils 900
Foundation: The TruBalance Foundation guarantees you the support you deserve.
Warranty: 10-year warranty
Jamison Beddings' handcrafted commercial grade mattresses and beddings are the number one choice for hotels, resorts, or any commercial lodging property. Visit Factory Direct Furniture at Panama City Beach, FL now to browse through our mattresses and test them out for yourself. You can also contact us at (850) 203-2381 for any concerns or questions you may have about our Jamison mattress products.