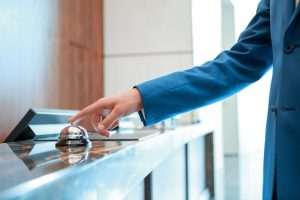 Many hotels have had to adapt with the constant social and technological changes around the world. From changes in hotel design to changes in the way guests book their rooms, the hospitality industry is constantly adapting to new trends.
Hotel lobbies, rooms, patio areas, and recreational rooms are no longer clogged with the standard beat-up sofa and tired linoleum flooring. Hotel interior designers have taken the changing times and come up with different ways to make hotels modern and appealing to a variety of guests. Let's take a look at a few things hotels have done to keep up with the most recent changes.
No More Standard Guest Rooms
The modern hospitality industry has taken guest rooms to the next level. Hotel rooms don't come with just a standard bed and nightstand anymore. Now, you can find commercial sleep chairs, commercial sofa beds, and commercial sleeper loveseats all in one room. The furniture styles have also evolved over the years. Furniture Today says in 2009, motion chairs, meaning ones that swivel and rock, accounted for 8% of furniture sales. Nearly 10 years later, these chairs have fallen out of favor, while more modern, mid-century style chairs have taken their place.
Technology Everywhere
At one point in time, room cards were a revolutionary development in the hotel industry. Today, some hotels let guests access their rooms just by using their phones instead of a swipe key. Guest rooms have transformed from a place to sleep into a place to connect, with wi-fi, video on demand, and hotel apps quickly becoming commonplace.
Resturants Are More than Just Food
Many hotel chefs want to take the dining experience of their restaurant way past the food. By providing a meal and an experience, hotels are trying to offer more than comfort food and domestic beers. By adding lighting, craft cocktails, Windward patio furniture, waterfalls, and other types of commercial outdoor furniture, upscale hotels are able to make their bar or restaurant feel like a destination in and of itself. When guests sit on the Windward patio furniture and find themselves surrounded by fire pits, water, and modern decor, they may forget that they are sitting on their hotel patio.
Hotels are Starting to Show Their Eco-Friendly Side
Since many hotel owners are leaning toward cutting short-term costs, they are doing whatever they can to become a "green" place. In order to stay environmentally friendly, hotels have installed huge windows for natural lighting, use natural building materials, and use locally grown food while cooking. While these eco-friendly measures can cut energy costs, they're also increasingly important to young guests who prefer to patronize sustainable brands.
There have been so many changes and upgrades within hotels over the past few years that allow guests to feel like they're having an experience, not just sleeping in a room with a bed.
Looking for Windward patio furniture and other types of hotel commercial furniture? Contact Factory Direct to learn more.