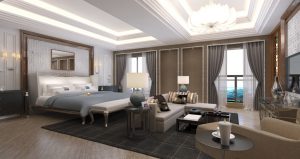 Everyone loves to travel, from weekend trips just to get away, to long trips across the world to explore a new culture. But wherever you go, one thing tends to remain the same: You're going to need a good hotel room to lay your head.
And with all of the hotels available to your potential guests, it's important to do what you can do to make your specific establishment stand out from the competition. So how can you ensure that a first time patron becomes a lifelong customer? Let's take a look at a few of the best ways to impress your guests and stand out.
Be Available for Your Guests
Guests can have some pretty weird requests and questions, no matter what time of day it is. They might need an extra pillow or blanket at 2:00 a.m. when they finally hop into bed. They might also want to know how to get somewhere while they're planning for the next day's adventure. By being at your guest's disposal whenever and wherever they need you, you are going to be seen as a helpful and pleasant place to visit. Take the time to get to know your guest's names and where they are from. It's always a nice touch to speak to someone using their name instead of ma'am or sir, even if their question is, "Where can I get the best fast food?" at 4:00 a.m.
Have the Right Hotel Furniture
Guests tend to gravitate toward hotels that are updated with modern decor and come equipped with the latest technology. With comfy hotel furniture like a queen sleeper sofa, Adirondack chairs, loveseats in all of the rooms, and Windward patio furniture outside, guests will have many places to fall asleep or just relax. Furniture Today reports that motion chairs (including recliners, gliders, swivel rockers, etc.) made up about 8% of furniture sales in 2009, and pieces like these are a nice touch. It's also important to have rooms with updated technology like phone charging ports, smart TVs, and alarm clocks. 
The Guest Is Always Right (Even When They're Obviously Wrong)
No matter what you might think, the old saying goes "the customer is always right." Even if you think a particular guest's complaint is petty or small, you still have to make them feel heard and valued. That might mean offering a free dessert with their next order of room service, or it might just mean listening patiently while they vent. In the digital era, it's all too easy for an upset customer to leave a negative review online. Taking the time to listen to your guests, especially the angry ones, will get customers in the door and keep them coming back.
Whether it's with the use of modern hotel furniture, friendliness, or just a simple "okay" if the guest demands something specific, you can get people booking rooms and stays again and again.