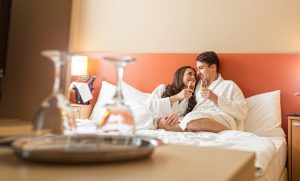 Are you looking to attract more guests to your resort? With the thousands of locations all over the world, it might be hard for a traveler to decide where to stay. In order for a traveler to pick your resort, you need to make sure that you figure out what will attract people to your specific place.
To do this, there are some easy ways to get customers through the door. Some might be more obvious than others, but all truly make a difference. Let's take a look at a few ways you can attract more guests.
Pick Out Quality Resort Furniture
One of the most common complaints by guests is that their room's bed is too hard or uncomfortable. This just goes to show that people who stay in hotels really like the furniture to be top-notch and cozy. Bringing in queen sleeper sofas, loveseats, commercial sleep chairs, and Adirondack chairs can help boost people's perceptions of resort furniture. Paying attention to the details of the resort furniture regarding style, size, and comfort level can play a big part in attracting guests. No one wants to sit on resort furniture that is either too small or too stiff. A U.S. Department of Commerce report shows that furniture and home furnishings store sales made a total of $9.51 billion in June 2017. This was up from $9.27 billion in June 2016, so don't be afraid to spend a little money to keep your guests happy.
Do Daily Room Inspections
It's common for hotels and resorts to have people go around and clean guest's rooms. However, in some establishments, cleaners don't do a thorough job. Doing things like creating a checklist and leaving it on your guest's table to show what was fixed and what was cleaned can help ensure the guest that the room has been left in spotless condition. Now, this doesn't just apply to making the room clean. Always make sure that the phones are functioning, the televisions work, the toilets flush, and the showers are in good working order. Doing this will also save you time in the future and spare a guest the minute they have to take to call maintenance to fix a problem.
Ask Your Guests to Rate Their Stay
Many people will go online when searching for a hotel to stay at and read the reviews of others. If the hotel or resort has a poor review, chances are the potential guest will hit "next." By providing the best stay for your guest and by encouraging them to leave a review, you can easily bring more guests to your resort.
If you're searching for ways to bring more guests into your hotel, follow the steps above. These are easy ways to see your booking rate go up and to keep people coming back time and time again.